Call
Flights take place from the airport of the Krakow Aeroclub in Pobiednik Wielki, 22 km from the centre of Krakow. Our office is located on the right right after entering the airport. The airport meets all the requirements of the European Union as to the conditions that the grass airport must meet. There is a parking lot for visitors near the hangars.
Loty Widokowe Kraków Sp. z o.o.
Lotnisko Pobiednik Wielki, 32-125 Wawrzeńczyce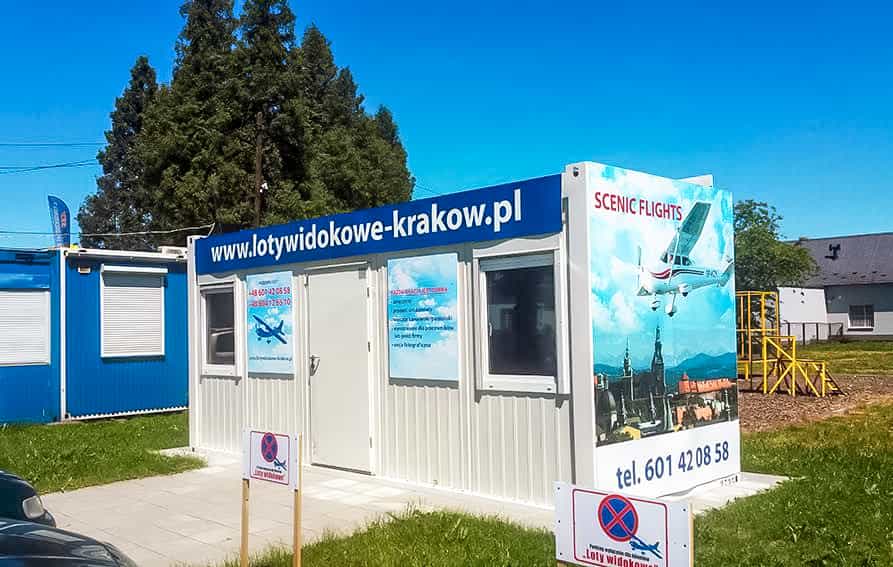 Frequently asked questions
Where will the take-off and landing for my sightseeing flight be?
2023-07-24T20:46:53+02:00
The take-off and landing of all sightseeing flights take place at the airport in Pobiednik Wielki, which is located near Krakow. Our company organising sightseeing flights asks you to set your destination at our headquarters, which you can easily find using the link https://g.page/loty-widokowe-krakow.
We ensure full safety during the flights, which take place in accordance with strict aviation regulations. Before departure, pilots carefully check the weather conditions to ensure that the sky conditions are favourable for the flight.
In the event of adverse weather conditions, such as strong winds or precipitation, flights may be cancelled or rescheduled. Our company makes every effort to provide customers with a new convenient flight date.
During a sightseeing flight, you can enjoy beautiful landscapes from a bird's eye view, see the sights and learn about the history of the area. Our company offers sightseeing flights for both individual clients and organised groups.
We recommend that clients arrive at the airport in advance to avoid delays and have time to prepare for the flight. Car parking is available on site and there are also toilets and a refreshment area for customers.
We hope that during the sightseeing flight our customers will have an unforgettable experience and see the beauty of Krakow's surroundings from a bird's eye view. If you have any questions or concerns, please contact our customer service office.